Mulch Pickup Program
Free mulch is available to Pinellas County residents at over 15 locations. Bring a pitchfork and take as much mulch as you need. For pickup truck or trailer loads, come prepared with a tarp or vehicle cover to keep your mulch load secured. This is required by law.
Mulch pick up locations
Find a pick up location by using this map.
In order from north to south county:
City of St. Petersburg Brush Sites
The following sites are managed by the City of St. Petersburg. According to the City of St. Petersburg's website, visitors will be asked to show proof of residency (driver's license, etc.) at the entrance to each site. The City can be reached at 727-893-7398 for more information.
What is mulch?
Mulch is material that is ground from "yard trash," which consists of tree and shrub trimmings, grass clippings, leaves, palm fronds, trees and tree stumps, and clean wood.
How does mulch benefit the environment?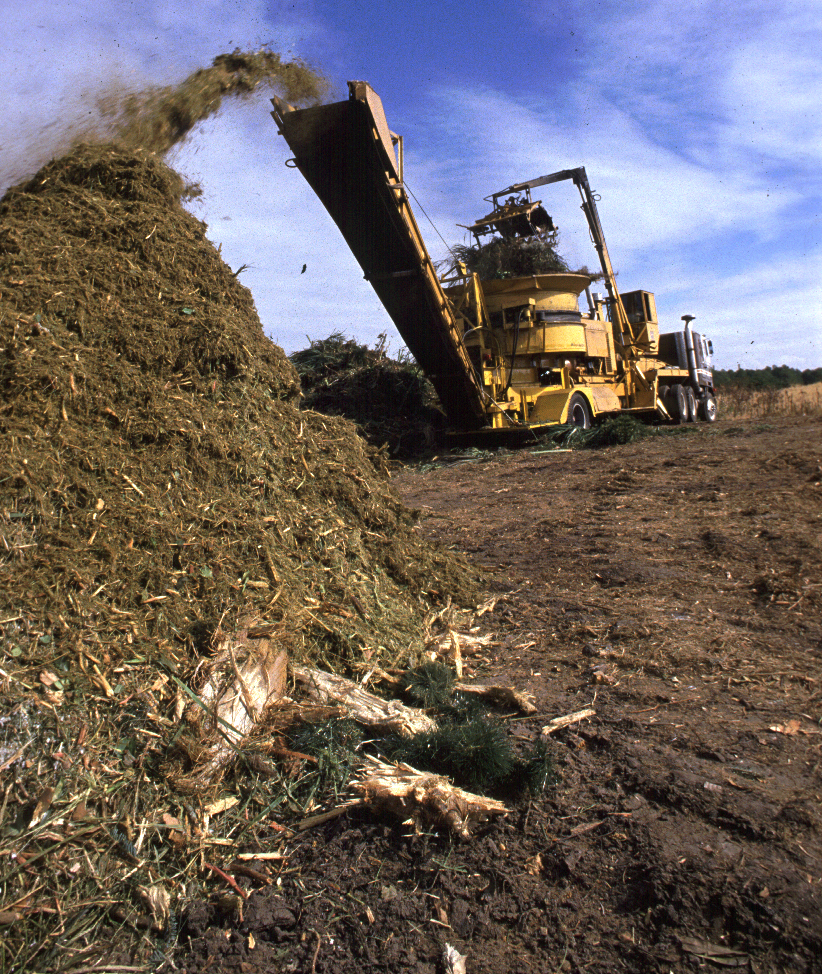 Mulch is useful for making landscaping attractive, saving water by reducing runoff and conserving soil moisture.
Applying mulch to landscapes is one of the nine principles of Florida-Friendly Landscaping™. Click here for University of Florida's IFAS Extension's guidance on how to mulch.
How You Can Help
Pinellas County's vision is zero waste to landfill by 2050. Based on a 2022 Waste Composition Study, 12.5% of incoming garbage is yard trash and clean wood. That's a significant amount of yard trash that could have been turned into usable mulch.
You can help by:
Leaving grass clippings on the lawn. "Grasscycling" prevents more than 35,000 tons from being disposed each year, reducing the need for fertilizer and water and returning nutrients to the soil.
Participating in a curbside yard trash collection program or drop off yard trash. In Pinellas County, over 270,000 tons of yard trash is diverted from disposal to be ground into usable mulch every year. *Keep yard trash free of plastic bags and plant pots, twine/string, metal, food scraps and other foreign materials.*
"Doing it yourself" by composting yard trash with kitchen food scraps at home.
Visiting the Where Does It Go? Search Tool to find yard trash collection programs and locations. Search for keywords "yard trash" and "compost."
Mulch Sanitization Process
Mulch pickup sites managed by the Department of Solid Waste follow a sanitization process to reduce the potential for weed seeds, plant diseases, pathogens and insects.
The sanitization process is multi-step:
Unbagged yard trash collected by municipalities, private haulers and residents is received at the County's yard trash-to-mulch facility located at 3095 114th Ave. N., St. Petersburg.
Loads are inspected for foreign materials, like twine/string, glass, metal, and plastic, which are removed and placed in the garbage.
Yard trash is ground into mulch using a tub grinder and formed into long "windrows" or stockpiles.
The windrows heat up through a natural microbial process to a temperature of 131º Fahrenheit or greater. This temperature is maintained for at least 72 consecutive hours.
The windrows are turned using equipment to expose the outside mulch to the inside temperature. The turning process is repeated three times.
The County's yard trash-to-mulch facility follows the mulch sanitization process described on page 22 of Recycling Yard Trash: Best Management Practices Manual for Florida (manual). The manual was created in May 1996 for the Florida Department of Environmental Protection (FDEP) by the Florida Organics Recyclers Association and the Florida Center for Solid and Hazardous Waste Management. It is still the accepted sanitization practice. You can access the manual via FDEP's document storage database, Oculus, by following these instructions:
Click on the hyperlink above, then click "Public Oculus Login."
For the Catalog, select "Solid Waste."
Select Search By "Profile" and Select the Profile "DWM Historical Repository."
For Document Title, type "Recycling Yard Trash," then click Search.
Click on the PDF icon to open the manual.
Additional Resources
Questions?
Click the Live Chat button below, email recycle@pinellas.gov, or call (727) 464-7500.