Guide to Managing Dental Waste
This resource has been developed by the Department of Solid Waste to provide businesses with guidance on how to properly manage wastes in accordance with federal, state, and local laws.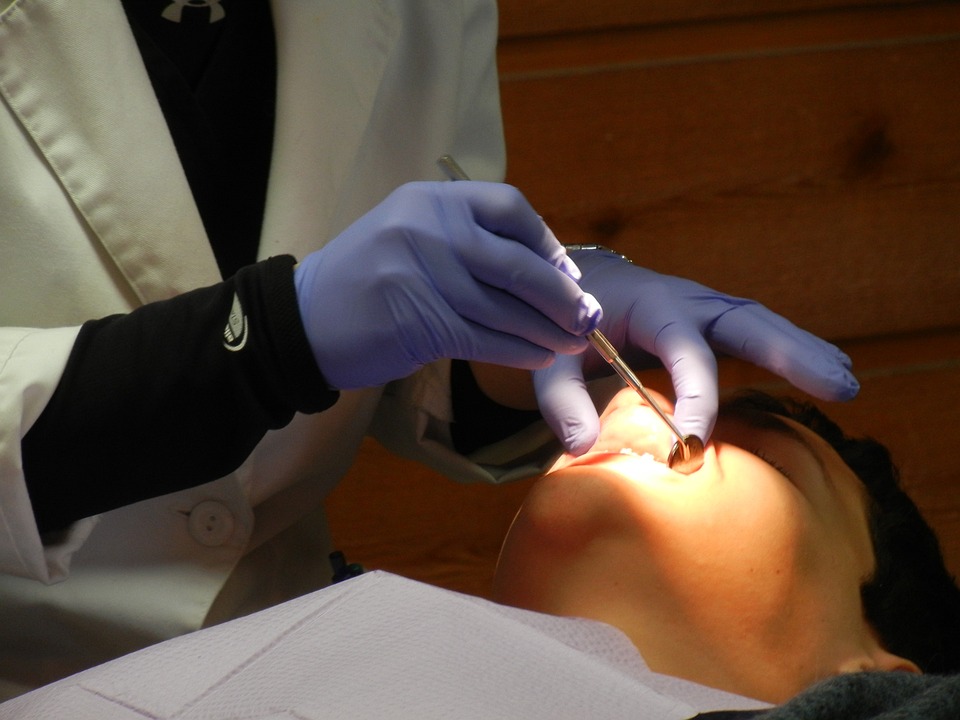 Dental Offices can Go Green too!
Refuse:
Refuse Junk Mail

Register with the Mail Preference Service of the Direct Marketing Association
Phone specific companies and ask to be taken off their mailing list

Refuse to purchase products with excess packaging

Patronize suppliers who minimize packaging or use recyclable packaging
Reduce:
Purchase in bulk to reduce packaging waste
Use digital technologies – go paperless as much as possible with suppliers and customers
Use steam sterilization instead of chemicals
Ask if patient wants a "goodie bag"
Replace plastic goodie bag with small paper bag (brown sandwich bag)
Reuse:
Switch from single-use paper bio-bibs to cloth
Replace single use plastic products with re-usable stainless steel items
Examples: impression trays and suction tips
Purchase recycled content:
Office paper
Files folders
Toilet paper
Best Management Practice for Scrap Amalgam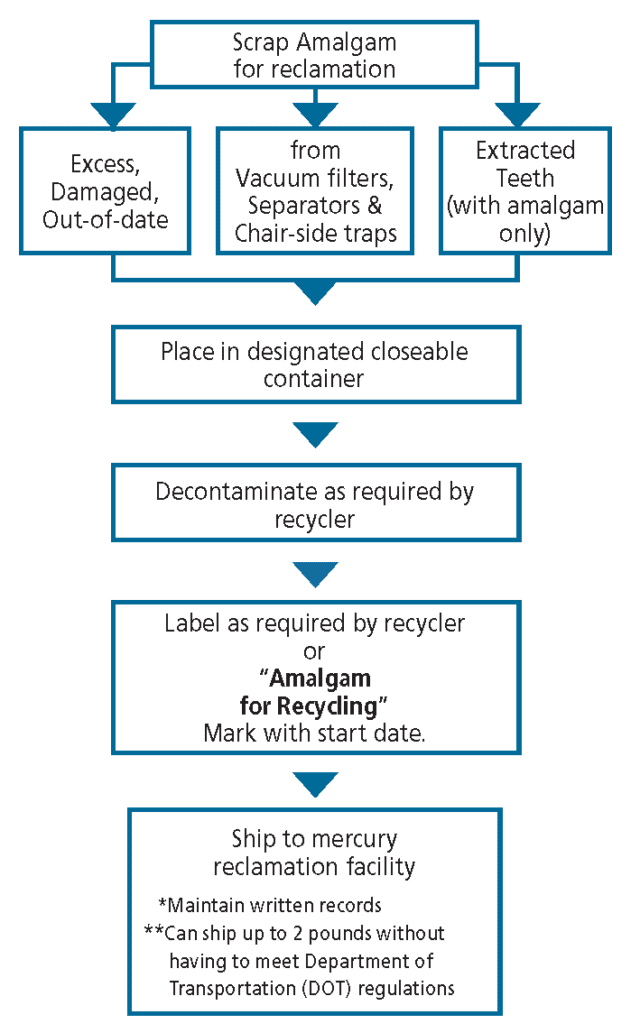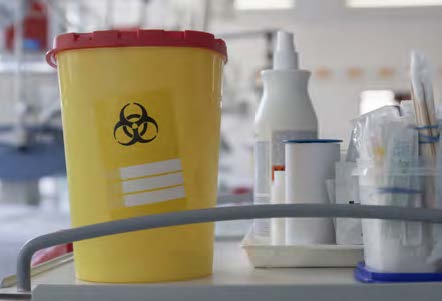 New Information
The Dental Amalgam Separator Rule (40 CFR Part 441) went into effect on July 14, 2017.
The rule requires most general dentists to install an amalgam separator in order to contain the release of
mercury.
Compliance date for the majority of dentists was July 14, 2020.
Requirements of the rule include:
Ensure the removal of all dental amalgam from process wastewater using amalgam separator(s) (or equivalent device(s))

Implement best management practices
Comply with reporting requirements
Maintain compliance documents and make available for inspection
The rule is mandatory with some specific exemptions.
For further information visit: www.epa.gov/eg/dental-effluent-guidelines
Frequently Asked Questions:
https://www.epa.gov/sites/default/files/2017-12/documents/dental-office-category_frequent-questions_nov-2017.pdf
Management of Regulated Wastes Typically Generated at Dental Facilities
Visit www.dep.state.fl.us/waste for information on hazardous waste disposal and recycling.
Waste Type
Source
Disposal Options
Amalgam
See new Dental Amalgam Separator Rule on left

Traps
Screens
Excess mix (unused)
Damage capsules
Extracted teeth:
Teeth containing amalgam cannot be managed as biomedical waste.

1. Reclaimed via mercury reclamation facility
2. Manage as hazardous waste
Empty Amalgam Capsule
Pre-capsulated amalgam use
1. Dispose in trash
Fixer
X-ray process
1. Take off-site for recycling
2. Treat before discharge to sewer
(must recycle recovered silver)
3. Manage as hazardous waste

Unused Developer
X-ray process
1. Manage as non-hazardous industrial waste; cannot be discharged to sewer system
X-ray Film
X-ray film
1. Reclaim via metal reclamation facility
Metals

Lead foils
Bite wings
Discarded lead shields and aprons

X-ray process
1. Reclaim via metal reclamation facility
2. Manage as hazardous waste
Universal Wastes

Lamps (e.g. LEDs, fluorescents, HIDs) mercury-containing devices

(water-bath thermometers, thermostats, sphygmomanometers)
Throughout facility
1. Recycle via universal waste destination facility
2. Manage as hazardous waste
Waste or Bulk Mercury
1. Reclaim via mercury reclamation facility
2. Manage as hazardous waste
Compliance Tips
Written documentation of waste management/disposal is always recommended.
Wastes recycled for their metal value, i.e. silver and mercury, do not count as hazardous waste toward your generator status.
If you opt to use a silver recovery unit, check the unit daily for leaks, spills and overflows. Work closely with your supplier for help in developing a changeover schedule based on your volumes of silver-bearing solutions.
Pinellas County and its municipalities have limitations on concentrations of pollutants, such as metals, discharged to the sewer system. Verify your wastewater discharge limits at www.municode.com.
Amalgam waste should never be put in with biomedical (red bag) waste. For information on biomedical waste, visit www.floridahealth.gov.
Never rinse amalgam traps over drains or discard in the garbage.
Place mercury spill kits in convenient locations; never use a regular vacuum to clean up a mercury spill.
Follow ANSI/ADA specification 109 requirements for amalgam waste storage and shipment.
---
Contact Us
For more information or to request a printed copy of this guide, contact the Pinellas County Small Quantity Generator Program at (727) 464-7500 or bwa@pinellas.gov.