Guide to Managing Parts Washer Wastes
This resource has been developed by the Department of Solid Waste to provide businesses with guidance on how to properly manage wastes in accordance with federal, state and local laws.
Solvent-based parts washers come in a variety of types, ranging from one-gallon dip buckets and recirculating systems to large pressure washing units. Parts washers can contain these types of solvents:
Citrus-Based Solvents
Mineral Spirits
Xylene
Petroleum Naptha and/or Petroleum Distillates
Benzene and/or Diesel Fuel
Trichloroethylene
Aqueous parts washers can contain nonflammable and nontoxic chemicals when purchased. As they are used, these chemicals are mixed with potentially hazardous components from the metal objects that are being cleaned.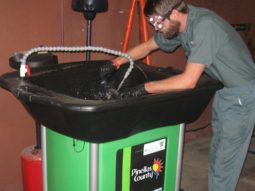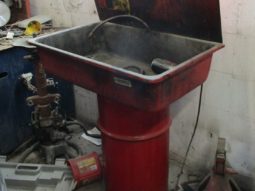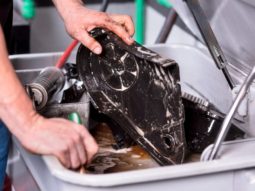 How to Manage Regulated Wastes Generated from Parts Washers
Visit www.dep.state.fl.us/waste for information on hazardous waste disposal and recycling.
WASTE TYPE
HOW WASTE IS GENERATED
SOLVENT
Use OPTIONS 1-4 for waste management
The solvent becomes a waste when the solvent is too dirty to clean the parts that are placed into the cleaning unit.
SLUDGE
Use OPTIONS 1-3 for waste management
Solids are generated in parts washers when sediment from parts settles to the bottom. Eventually there will be a sludge, grit or solid that must be disposed. Toxic metals such as chromium and lead can accumulate in this material.
FILTER
Use OPTIONS 1-3 for waste management
Filters can be found on some parts washers to trap sediment or debris. This becomes a waste when it is changed out and no longer usable as a filter. The sediment particles must be included as a waste with the filter. Toxic metals such as chromium and lead can accumulate in this material.
Options for Waste Management
Conduct an accurate waste determination.
Manage as hazardous waste, if hazardous.
Manage as non-hazardous waste, if non-hazardous.
Reclaim through a continued-use program.
Compliance Tips
It is recommended to have written documentation of waste management/disposal.
Generator Status
If your parts washer is serviced by a third-party, consider asking them if they have a continued-use program. This allows the parts cleaning solution to be reused. This means the parts cleaning solution does not count towards your monthly hazardous waste generation and does not affect your generator status.
If you use multiple parts washers, consider staggering your service. Changing all at once could potentially change your generator status if you generate more then 220 pounds of hazardous waste in a calendar month.
Best Management Practices
Only wash parts when necessary.
Keep the parts washer closed and away from heat to minimize product loss and air emissions from evaporation.
Only change your cleaning solution when it no longer adequately cleans parts. Do not change your solution on a schedule basis, and only allow contract pickups when necessary.
Drain your parts thoroughly over the parts washer to reduce loss of cleaning solution.
Do not change the aqueous cleaning unit's solution just because it looks dirty. Many solutions turn brown or gray during use, but the discoloration does not affect their cleaning ability.
Select aqueous cleaning units with filtration and oil skimming to remove solids and oil from aqueous cleaning solutions. This extends the life of the solution.
Consider switching from a solvent-based to an aqueous-based cleaner.
Contact Us
For more information or to request a printed copy of this guide, contact the Pinellas County Small Quantity Generator Program at (727) 464-7500 or bwa@pinellas.gov.